The Site:
Maryhill State Park is a 99-acre camping park with 4,700 feet of waterfront on the Columbia River in Klickitat County. The area is significant for its natural beauty, its access to the surrounding natural wonders and its cultural history. A full-scale model of Stonehenge stands near the park.
Maryhill State Park was acquired by lease from the U.S. Army Corps of Engineers in 1972 at no cost. Sam Hill, considered a local eccentric, built a "castle" for his daughter, Mary, on a hill, and named it "Maryhill." He designated the beautiful building, originally designed as a family home, as an art museum before the end of its construction. Mr. Hill built a full-scale partial replica of England's famous Stonehenge one mile from the state park. [Unfortunately, when Sam Hill copied Stonehenge he didn't get it oriented like the original, with respect to the compass]. Both Stonehenge and the Maryhill Museum of Art are open to the public.
Excellent paved motorcycling roads abound in this area, including Rock Canyon on the Bickleton-Mabton road, WA 142 along the Klikitat River, the backroads up through Glenwood, Trout Lake and on up to Mt. St. Helens. On the Oregon side of the river are the network of roads bounded by Mt. Hood on the east, Redmond and John Day on the south, La Grande on the east, and the Columbia River on the north. Hardly a bad road among the bunch, and some truly memorable stretches in there with excellent 'character' and great scenery. Bring your camera, and watch your speed — Oregon has stupid-low speed limits on rural roads...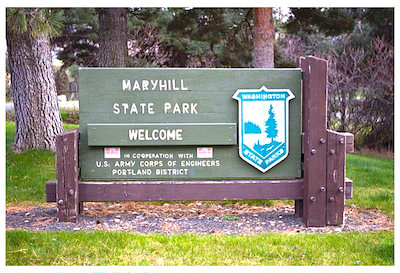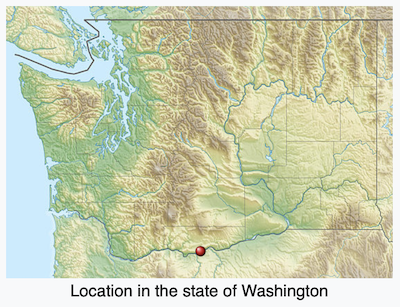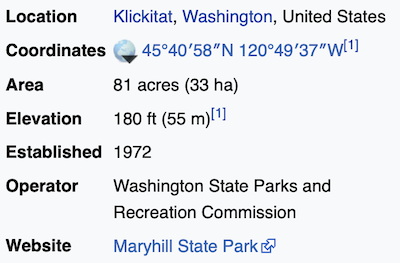 Photos from the 2010 event:
St. Carl
Greg North
Brian Poppe
There were quite a number of other nice photo collections, but they were all hosted on Picassa, which, as you may know, Google killed off awhile ago...
Amenities:
The
MAIN SHELTER
where we will prepare and serve the meals:
Approx. 30x50ft post & beam.
Glass on southwest, otherwise open half-walled.
Close-by large concrete fire-ring with some seating.
8ea 8ft aluminum nice picnic tables. NOT chained down.
NE wall has ~8ft butcherblock countertop with sink.
Cold water only, must hold to keep on. Good drain.
Center island 3x8ft butcherblock counter. AC outlets both sides.
No water at center island.
10 overhead outdoor lights on beams with breaker-box in corner.
No AC outlets at breaker box - light control only.
Big Rubbermaid trash cans under the central island
This shelter is almost as good as Crescent lake, better in some ways.
The
GROUP CAMP
:
The area where the words Group Camp are printed is dry scrub waste.
The Group Camp is both sides of the sidewalk shown between the shelter and restroom/bathhouse.
That sidewalk is about 100yds long. It's not a small place.
The two gray areas with white circles are parking lots for Group.
I'll refer to them as the North lot and the West lot
The numbered sites to the east of the bathhouse are tent camping
Group camp area wraps around north side of tent camping area
Tent campers share the bathhouse with Group camp
Multiple water and AC (with RV 30A service) along edge of each parking lot
Water at each end of central sidewalk, near shelter and bathhouse
No power or water around outside periphery of parking lots, only on the central camp area side.
The main camp area both sides of the central sidewalk has no trees
A line of small trees trees parallel to each parking lot, about 20 feet in
A line of poplars runs N-S about halfway between site 51 and the North lot
A line of poplars, with gaps, runs parallel to the river down by site 55
2 trash dumpsters in north lot. Empty space for 2 more at West lot.
The
BATHHOUSE AT GROUP CAMP
(shared with tent campers)
Men: 1 sink, 2 urinals, 1 stall (ADA), 2 showers (1 ADA), 1 AC outlet.
Women: 1 stalls (1 ADA), 2 showers (1 ADA), 2 sinks, 2 AC outlets.
Propane tank adjacent indicates hot water.
Showers are coin-operated, quarters only, $0.50 for 6 minutes.
No paper towels or wastebaskets - air blower hand dryers.
There is another bathhouse in center of RV area. Similar specs.
The
BATHHOUSE AT SWIM BEACH
:
Men: 3 sinks, 3 stalls, 2 urinals, 2 shower stalls, large changing area.
Women: 5 stalls, 3 sinks, 2 showers, 8 changing booths.
The
PARK
itself:
The digram shows less than one-half of the total E-W extent of the park.
The rest is a very, very nice, green, shady day-use area and swimming. beach with shelter, bathhouse, etc. adjacent east of the RV camping area, AND THEN to the east of that even more day-use area for fishermen with boat launch, another shelter, picnic tables, lots of shade.
When we were there, it was not windy. Sunny and slightly cool.
259.1 miles from our house in Spokane. GPS altitude at river: 150ft.
No gas 82 miles eastbound on WA 14.
We noted many bees (honeybees?) in the shelter area.
Activities:
Boating (freshwater)
2 boat ramps (freshwater)
216 feet of dock (freshwater)
Fishing (freshwater)
Personal Watercraft (freshwater)
Swimming (freshwater)
Water Skiing (freshwater)
Beachcombing
Bird Watching
4 Horseshoe pits
Sailboarding
Wildlife Viewing
Sunday Night
We have an option for a few Gatherees to spend Sunday night in the campground. Rolf has pre-paid for this, if you wish to stay Sunday night also, please slip him $10 or so...
Safety Information:
Area Manager
Head Ranger
Ranger
(509) 773-5007
(509) 773-5007
(509) 773-5007
Klickitat County Sheriff
911 for emergency
(509) 773-4547
Washington State Patrol
911 for emergency
(800) 283-7805
Klickitat Valley Hospital
Goldendale, WA
(509) 773-4022
Medic 1 or Ambluance
Goldendale, WA
911 or
(509) 773-6000
Forest Fire Reporing
(Dept. of Natural Resources)
(800) 562-6010